Calea Master eCatalogue
Welcome

Healthcare News

Medical Kits

Naloxone Kits

Help
Ideas demonstrate potential.
Innovations demonstrate results.
The Calea eCatalogue Calea is proud to broaden our relationship with our LHIN and Community Healthcare partners as we launch our latest innovation; the Calea e-catalogue. Our goal: to create an easy-to-use tool that enables our customers to access detailed information when ordering supplies from Calea. We trust that this new tool will become an essential part of your day. It will create efficiencies by providing instant access to product information located in your LHIN's catalogue or formulary. Simply follow the link to your LHIN to find your codes and products. Here's what you will find in the catalogue
High resolution images
Product information
Manufacturer codes
LHIN and Calea codes
Kit and Tray contents
About Calea
Calea is the leading Canadian provider of client-focused, home healthcare products, services, and patient support programs. Formerly known as Caremark, Calea has been serving the healthcare needs of tens of thousands of Canadians since 1984.
We provide expert solutions and support resources to medical professionals, hospitals and pharmaceutical companies, home healthcare clients and their caregivers.
Calea is based in Mississauga, Ontario and operates nationally with facilities in Hamilton, Montreal, Calgary, and Burnaby.
Calea Ltd. is a subsidiary of Fresenius Kabi, Europe's leader in the field of nutrition and infusion therapy and ambulatory healthcare. Fresenius Kabi is a business segment of Fresenius AG, a publicly traded, multi billion dollar global health care company with headquarters in Bad Homburg, Germany.
Our goal is to continue to deliver the highest levels of service and support to all of our healthcare partners in communities across Canada. We measure our success by our ability to optimize the quality of life for each individual we serve.
Calea is ISO 9001 Certified
Contact us today at:
Calea Ltd., Canadian Corporate Office
2785 Skymark Avenue, Unit 2
Mississauga ON
L4W 4Y3
CANADA

General Inquiries: 905.238.1234
Toll-free: 1.888.909.3299

Legal Disclaimer
No Warranties This website, the content and the products and services are provided on an "as is" and "as available" basis and without warranties of any kind either express or implied. To the maximum extent permissible under law, Calea disclaims all representations, warranties and conditions, express or implied, including but not limited to implied warranties and conditions of merchantability, merchantable quality and fitness for a particular purpose, title, non-infringement of proprietary rights, and implied warranties and conditions arising from the course of dealing or course of performance.
Calea does not warrant that this website or any products or services will be uninterrupted or error-free, that defects will be corrected, or that this website or the server that makes it available will be free of viruses or other harmful components.. Calea does not warrant the accuracy, completeness or correctness, timeliness, or usefulness of any opinions, advice, services, merchandise or other information provided through the service or on the internet generally.. In no event will Calea be liable to you or anyone else for any decision made or action taken by you or anyone else in reliance upon the information provided through the service.
Linked Sites Calea shall have no responsibility or liability to you in connection with third party websites accessible by links posted on this website ("linked sites").. Access to linked sites is at your own risk and Calea is not responsible for the availability, accuracy or reliability of the contents of any linked site or any link posted on a linked site.. Calea provides links to you only as a convenience, and the inclusion of a link does not imply endorsement of the linked site or any products, services, materials or statements contained or referred to thereon by Calea.
No Advice The content posted on this website is not intended to be a comprehensive or definitive statement concerning the matters therein addressed, or medical, pharmaceutical, therapeutic, or other professional or expert advice, and should not be relied upon as such.. In no way should such content be construed as a recommendation of, or as an offer to purchase or sell, or the solicitation of an offer to purchase or sell, any drug, therapy, device, supplies or other products or services.. Always seek the advice of your physician or other qualified health provider prior to starting any new treatment or with any questions you may have regarding a medical condition. Nothing contained in the products, services, or content available on this website or any linked site is intended to be for medical diagnosis or treatment.
No Solicitation This website is not intended, and must not be taken, to be the provision or practice of medical, nursing, or professional health care advice or services in any jurisdiction.. The service is not targeted to users in any particular locality, nor is it intended to constitute the doing of business in any jurisdiction, nor to be a solicitation of business anywhere on behalf of the company or any of its affiliated corporations, nor to constitute any contacts with any jurisdiction outside of the Province of Ontario.
Opioid Crisis
Canada's Opioid Crisis continues to be at the leading edge of discussions both in the public and political arenas. According to Health Canada, in 2016 alone, there were 2,458 apparent opioid-related deaths. With the continued flow of fentanyl and other synthetic opioids in to Canada, reducing this number could be difficult.
So what is being done?
According to the Federal Health Minister Ginette Petitpas Taylor, over $100m has been put aside to deal with the issue and getting with provincial and territorial partners is essential to get an understanding of real root of the problems. In addition, Health Canada has outlined an action plan, which includes public health emergency response, prevention, treatment, harm reduction, and enforcement. For more details visit the Health Canada website or view their framework here .
What is Naloxone?
One of the main combatants to the overdose issue is the availability of Naloxone and each province is helping ensure these are readily accessible to those in need. Naloxone temporarily reverses the effects of an opioid overdose by removing the opioids from the opiate receptors in the brain.
Naloxone is administered in two ways: by injection or by nasal spray. It is important to note that calling emergency services and administering CPR are also vital to eliminating the risk of a fatal overdose. Toronto Health has posted a 5-step plan for reacting to an apparent overdose.
How to get a Naloxone kit?
Calea has kits for sale to any agency, pharmacy, or other partners who help distribute throughout our communities. For more information on the Naloxone kits supplied by Calea click here. In addition, each province has its own program laid out for the training and distribution of kits. For more information on each program, please see the links below.
Medical Kits
For decades, Calea has provided various types of custom medical kits to our community partners. We currently supply a variety of kits to our LHIN partners including wound care, IV, continence, ostomy, and others. For questions or requests, please contact Sarah Rotchford at 905.624.1234 x1642.

In addition, Calea is committed to fight against the current Opioid epidemic and now offers a variety of Naloxone kits. For more info, click here.
Naloxone Kits
By following Provincial and federal guidelines, Calea has developed and deployed Naloxone kits for the use in suspected or known opioid overdoses. We offer 3 standard Naloxone Kits and can be provided with or without medication. Should your organization require additional items we will customize the kit to meet your needs. There is a minimum order of 10 standard kits or 100 kits for customization requests.
Our standard opioid overdose kit contents are listed below. For pricing or additional information contact Sarah Rotchford at 905.624.1234 x1642.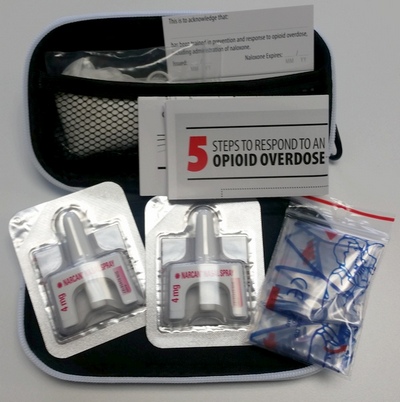 Naloxone Nasal Spray Kits

1 Semi-rigid carrying case with zipper & belt clip
2 doses of Narcan Nasal Spray® (Naloxone 4mg)
2 Pair of non latex gloves
1 CPR face shield
1 wallet Card
1 Opioid Overdose information sheet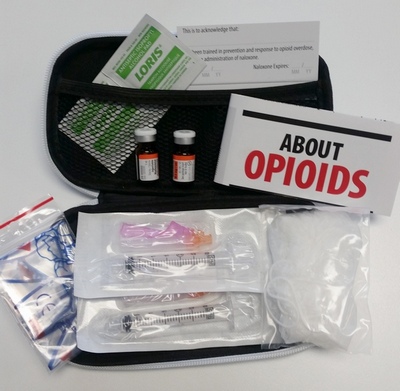 Injectable Kits - Naloxone Vials

1 Semi-rigid carrying case with zipper & belt clip
2 doses of Naloxone .4mg/mL Vial
2 Safety Syringes and Needles 3ml with 25g 1" Needle
2 Alcohol Prep Pads
2 Pair of non latex gloves
1 CPR face shield
1 Wallet Card
1 Opioid Overdose information sheet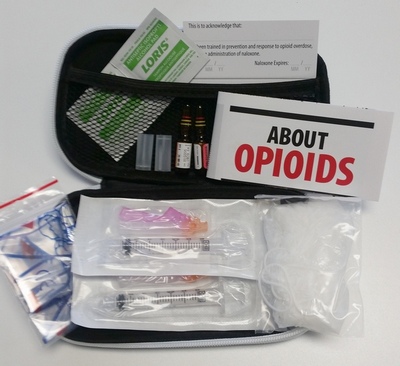 Injectable Kits - Naloxone Ampoules

1 Semi-rigid carrying case with zipper & belt clip
2 doses of Naloxone .4mg/mL Ampoule
2 Ampoule Crackers
2 Safety Syringes and Needles 3ml with 25g 1" Needle
2 Alcohol Prep Pads
2 Pair of non latex gloves
1 CPR face shield
1 Wallet Card
1 Opioid Overdose information sheet

Help Topics
How to Use The Search Function

You can use the search function in several ways. Search by CCAC code, product description, or manufacturer code. Simply enter the name of your product in the search box. It may take a few seconds to find your results.
Tips and Tricks:
Remember you must have at least 3 characters in the search field to find a code.
If you are searching for an item by size - remember to always use metric. Go to the Search Assistant tab for a list of metric conversions. If your measurement is listed simply multiply the number by 2.5 for the measurement in metric.

Using the hierarchy or product categories
There are four major product categories. Enteral, IV Supplies, Medical Supplies and Equipment Rentals. Each of these main categories have many sub categories. Simply find the main category and then click on the + sign to expand the list.
Tips and Tricks:
Remember, if you don't know the category, simply type part of the description or code in the search box.

No Image

If there is no image posted for a product and you think there should be please let us know. We'll do our best to add the photo within a few days.
simply email This e-mail address is being protected from spambots. You need JavaScript enabled to view it to make the request

Abbreviations

We've had to shorten some descriptions on products. You'll notice lots of abbreviated words. Go to the Search Assistant tab for a list of abbreviations and their translations.

Need More Help?

Just call us atl 905 624 1234 x 1642

Visitor Type
Please let us know which of these types of visitors you are: